3D Printers
Easy to operate, quality prints, beginners 3D Printer
Easy to use, High quality beginners 3D Printer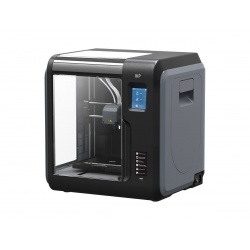 Fully Enclosed, Easy Wi-Fi, Touchscreen, 8GB On-Board Memory, Polar Cloud Enabled
Mini Delta V2 3D Printer (Mini Delta V2 3D Printer)


MINI DELTA V2

GETTING STARTED WITH 3D PRINTING
HAS JUST GOTTEN EASIER
MODERN UPDATES | DURABLE | EASY TO USE | HIGH‑QUALITY PRINTS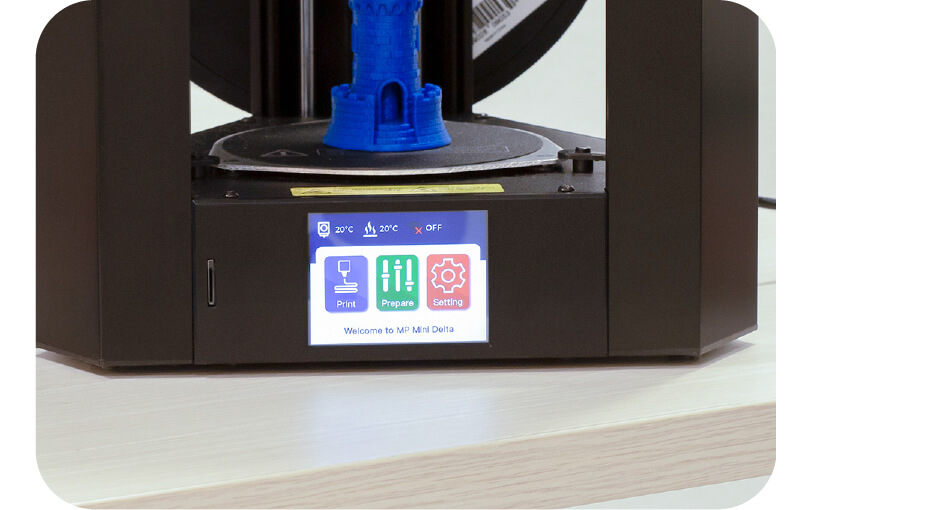 TOUCHSCREEN CONTROL.
UPDATED FIRMWARE AND UI.
Larger icons, clear and concise instructions, and overall quality of life improvements make this 3D printer ideal for beginners and professionals alike.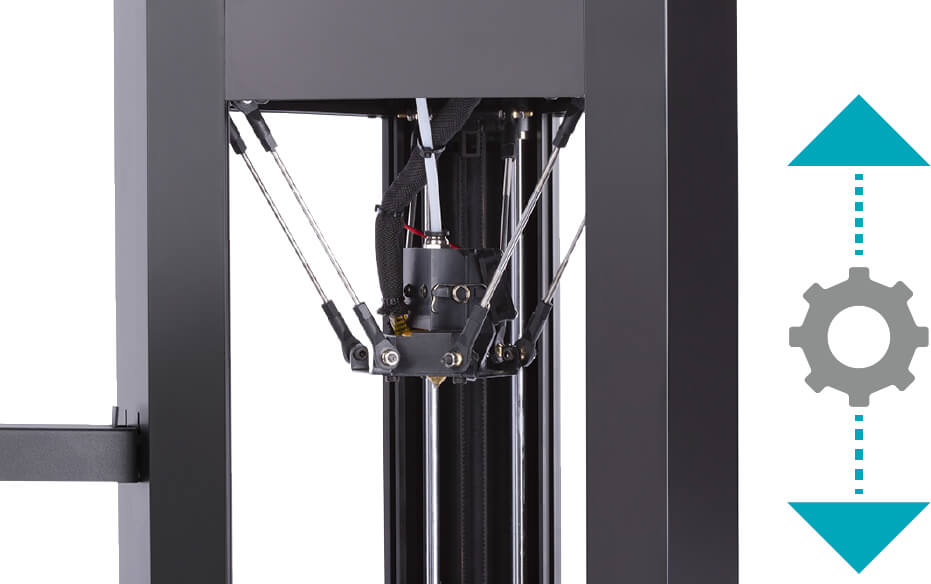 ADVANCED GCODE
AUTO LEVELING
The ideal auto leveling for delta style printers is also the industry standard and makes setting up that tricky first layer a breeze.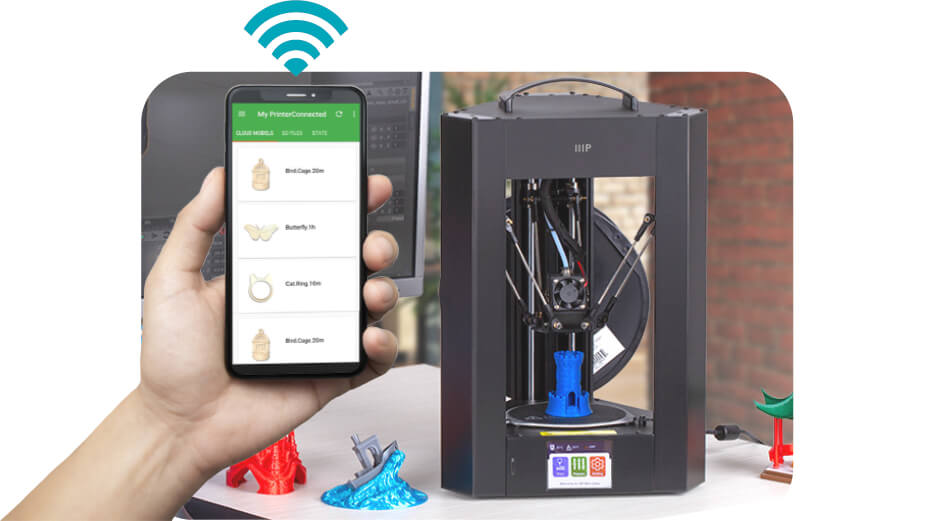 PoloPrint Pro Wi‑Fi®
CONNECTION
Connect to the printer over Wi‑Fi® using the updated PoloPrint Pro app for iOS® or Android™.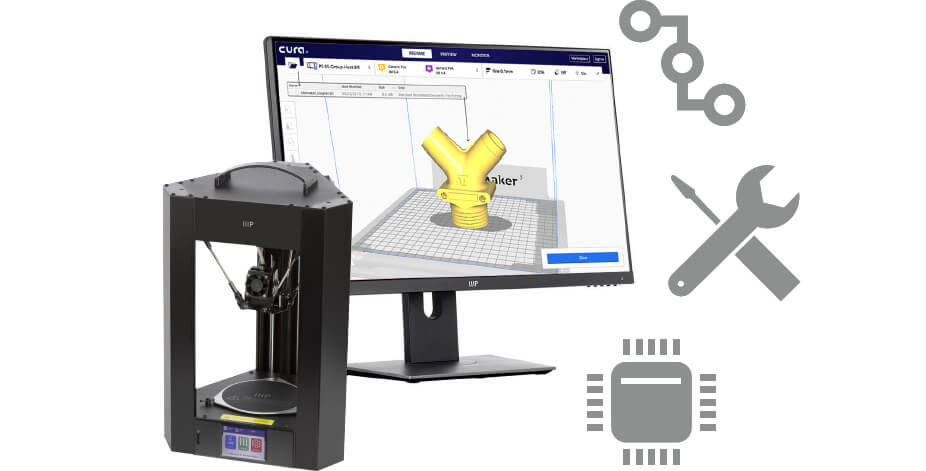 OPEN SOURCE FRIENDLY.
CURA COMPATIBILITY.
The industry standard firmware is great for people who want to tinker. The printer is compatible with Cura and many other open source 3D printing slicing software packages.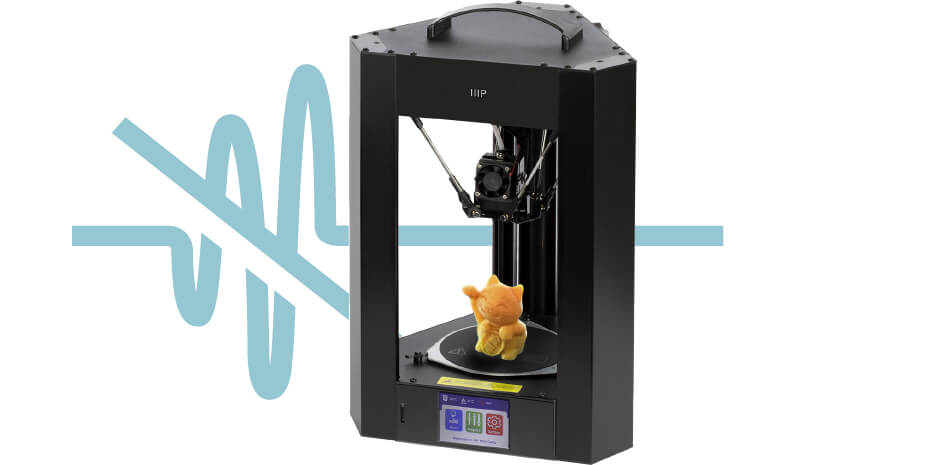 QUIET DRIVER MOTORS
Thanks to quieter driver motors, the Mini Delta V2 operates at a whisper quiet 30dBA, which is considerably quieter than the previous model.






Mini Delta V2

Heated Build Plate

Yes

Build Area

ø110 x 120mm

Resolution

40‑200 microns

Filament Diameter

1.75mm

Print Speed

Up to 170mm/sec

Maximum Extruder Temperature

180 ~ 260°C

Software

Cura and many other open source slicers

Wireless Printing

PoloPrint Pro Wi‑Fi® App

Compatible Materials

PLA, PLA+, ABS

Full Auto Leveling

Yes

Offset Adjustment

Yes

Auto Resume

Yes

Touchscreen

Yes

Low Operating Noise

Yes

On‑screen Model Preview

Yes

Downloadable Parameter Settings

Yes
Easy to operate, quality prints, beginners 3D Printer
MP Select Mini 3D Printer V2 (MP Select Mini 3D Printer V2)

MP Select Mini 3D Printer V2
This printer not only comes fully assembled, it has already been calibrated at the factory. All you have to do is perform a quick check to verify that the print bed is still leveled, in case it shifted during shipping, then load the included MicroSD™ card, load some filament, and start printing the preloaded model. Nowhere else will you find a 3D printer ready to print out of the box at such a low price!



All Filament Types: 
The heated build plate and wide range of extruder temperatures allow this printer to work with any type of filament, from basic filaments, such as ABS and PLA, to more advanced materials, such as conductive PLA, wood and metal composites, or dissolvable PVA.

Compact Desktop Design: 
Featuring a small footprint and basic, open frame design, this 3D printer is compact enough for any desk.

Ready to Print:
 Unlike most other low‑cost 3D printers, this printer ships fully assembled and has already been calibrated at the factory. We even include sample PLA filament and a MicroSD™ card with preinstalled models, so you can start printing right out of the box!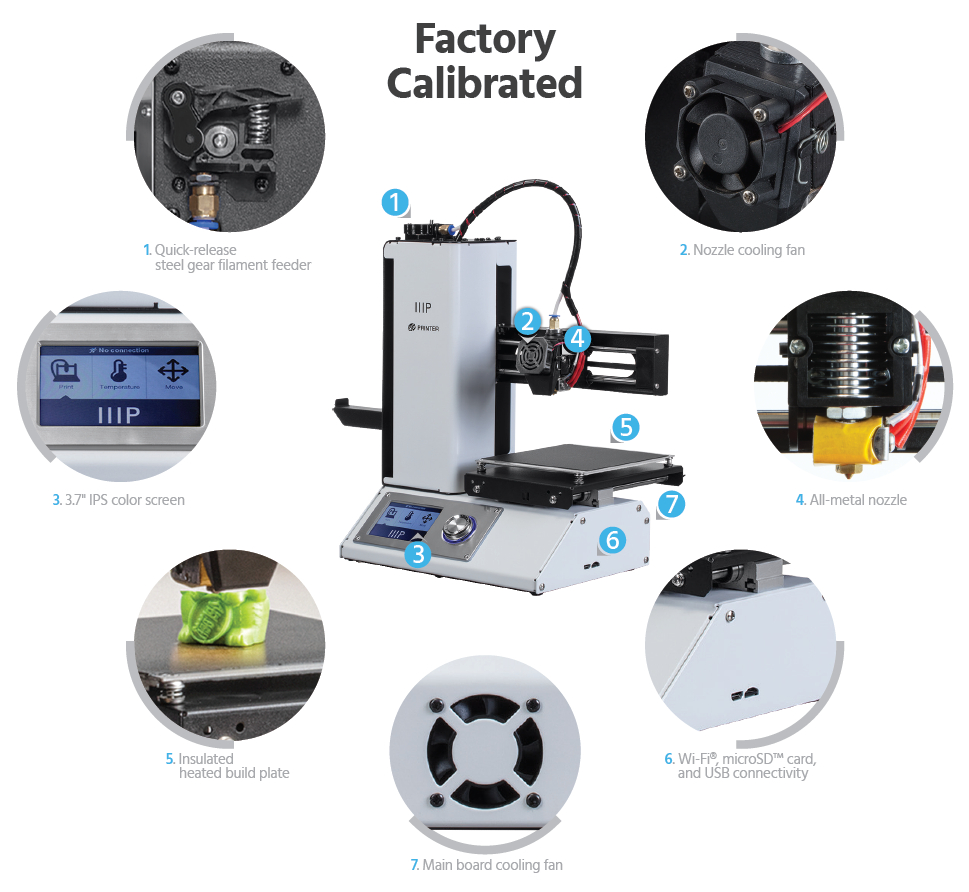 MP Select Mini 3D Printer V2
Build Area
120 x 120 x 120 mm
Resolution
100‑300 microns
Filament Diameter
1.75mm
Nozzle Diameter
0.4mm
Hotend Setup
Bowden
Print Speed
up to 55 mm/sec
Maximum Extruder Temperature
250°C
Maximum Build Plate Temperature
60°C
Heated Built Plate
Yes
Removable Build Plate
No
Filament Sensor
No
Calibration
Manual leveling
Connectivity
Color touchscreen, Micro USB, microSD™ card, Wi‑Fi®
Supported Slicing Software
Cura, Repetier‑Host
Easy to use, High quality beginners 3D Printer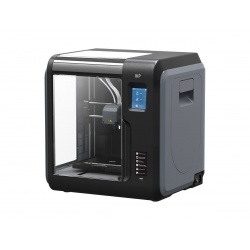 MP Voxel 3D Printer (Monoprice MP Voxel 3D Printer)

The Voxel is a unique, easy to use, beginner‑friendly 3D printer that brings 3D printing to the masses with its simple menu system displayed on a 2.8" color IPS touchscreen. The assisted leveling system reduces calibration to a single tap on the touch screen and the print nozzle can be swapped out in seconds, without the need for tools of any kind. It features 8GB of internal memory for storing 3D models, a USB port for connecting a flash drive, a Wi‑Fi® radio with a hotspot option for connecting your PC, and a built‑in camera for monitoring print operations. Best of all, the printer comes fully assembled and includes sample 3D models and filament, allowing you to start printing within minutes of taking it out of the box.
Quick Change Nozzle:
Unlike other 3D printers, which require tools and 20‑40 minutes of work to replace the nozzle, the Voxel has a quick change nozzle that allows you to change the nozzle in seconds, without the need for tools of any kind.

Heated Removable Build Plate: 
The removable, flexible build plate makes removing a model a breeze. Simply remove and flex it to dislodge the model.
You can easily replace it if it becomes damaged or can swap in a second build plate to start a new print immediately after completion of a project.
Additionally, it can be heated to temperatures up to 60°C.

Assisted Levelling: 
Assisted bed leveling makes the process of setting up the print bed as easy as a single tap to the touch screen interface.

Polar Cloud™ Enabled: 
The MP Voxel comes Polar Cloud enabled straight out of the box, meaning you can control your 3D printer from anywhere with an internet connection,
connect and manage multiple printers at once, queue print jobs, slice models, access unique educational curriculum,
and even check in on how your print is doing with the built‑in web cam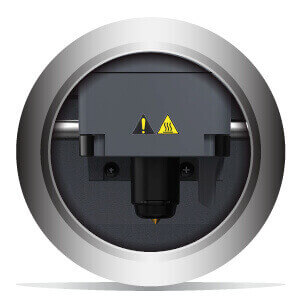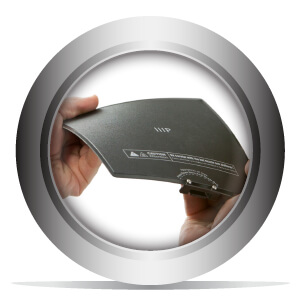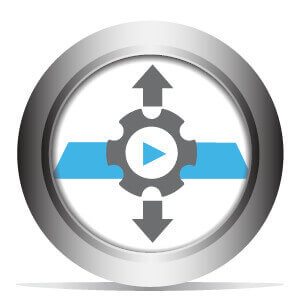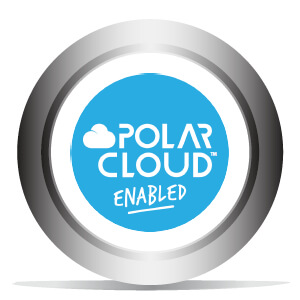 Heated Removable Build Plate
---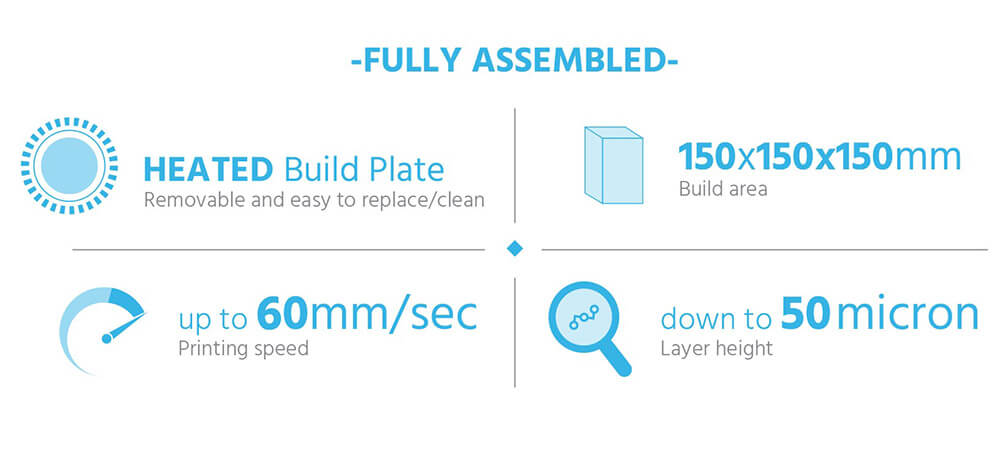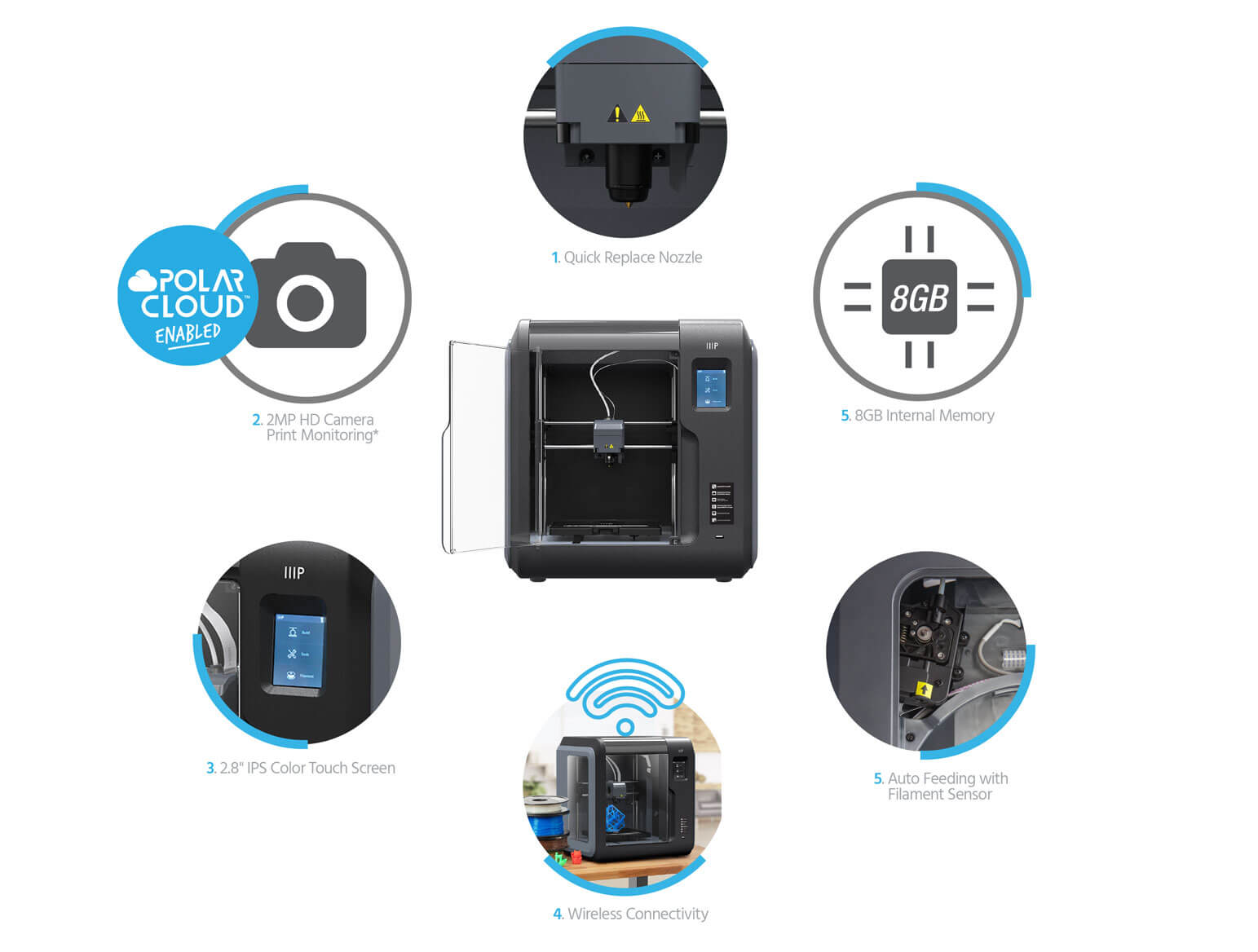 *Print Monitoring only available through select Cloud software
MP Voxel 3D Printer
Screen Type
2.8" Color IPS Touchscreen
Filament Size
1.75mm
Supported Filament Types
ABS, PLA, Wood Fill, Copper Fill, Steel Fill, Bronze Fill
Nozzle Diameter
0.4mm
Build Area
6.9" x 6.9" x 6.9" (150 x 150 x 150 mm)
Layer Resolution
0.05 ~ 0.4 mm
Build Accuracy
±0.2mm
Positioning Accuracy
Z: 0.0025mm, XY: 0.011mm
Build Speed
Up to 100 mm/second
Internal Memory
8GB
Software
MP FlashPrint
Supported Input Formats
3MF, STL, OBJ, FPP, BMP, PONG, JPG, JPEG
Supported File Formats
GX, G
Connectivity
USB Flash Drive, Wi-Fi®, Ethernet
Operating Systm Compatibility
Windows® XP/Vista®/7/8/10, Mac® OS X®, Linux®
Input Power
24 VDC, 6.5A
AC Adapter Input Power
100 ~ 240 VAC, 47 ~ 63 Hz
Maximum Power Consumption
150 watts
Dimensions
15.7" x 15.0" x 15.9" (400 x 380 x 405 mm)
Weight
19.8 lbs. (9.0 kg)
Fully Enclosed, Easy Wi-Fi, Touchscreen, 8GB On-Board Memory, Polar Cloud Enabled